Leave-in conditioners are hair care products used after the washing step. You don't need to rinse they, and they bring benefits such as extra moisture, damage repair and split ends prevention. 
In this article you are going to learn the importance of leave-in to the hair, how leave-in conditioners work and how to choose the perfect leave-in for your hair type!
Applying leave in conditioner 
You must apply leave-in conditioner after shampooing. You can replace the conventional conditioner with the leave-in version or keep it, using the leave-in to enhance the moisture and conditioning benefits. 
In case you keep the use of regular conditioner, it is necessary to rinse it well before applying the leave-in. Drying the excess water is also essential: you must apply leave-in on damp hair. 
You do not need to untangle the locks before putting the leave-in: actually, the product helps you with this task. Another important thing is to avoid the roots: the product is not made for this purpose. Inappropriate use can cause dandruff and give an "oily look" to the hair. 
Leave-in benefits
If you need to boost your hair care routine with a convenient and effective product, the leave-in is a great choice. It is quick and easy to apply, and has several benefits, such as:
Moisturizing effect
Damage repair
Split ends prevention
Detangles
Reduction of frizz
The best leave-in for your hair type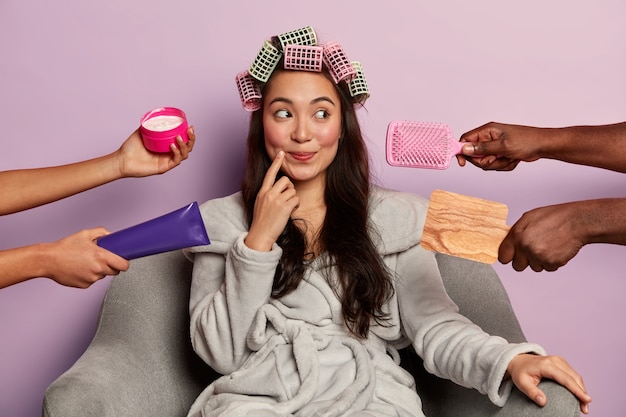 Now that you have learned some of the benefits of using a leave-in and how to apply it, it is time to choose the right one for your hair type.
Recognize your hair features and look for the ingredients that better fit it. Here are some indications:
Dry hair – try leave-ins enriched with fruits, butters and oils, like coconut oil, shea, cupuaçu and murumuru butter.
Frizzy hair – leave-in conditioners with oils are also great to end the frizzy look. Coconut, argan and avocado are examples of famous hair oils.
Damaged hair – in this case, the best option is to look for ingredients that repair and rebuild the hair fiber: a protein leave-in conditioner is the right choice! Keratin is one of the most powerful treatments for this hair situation.
Heat protection – this is not a leave-in conditioner made for a specific hair type, but is fundamental for people who frequently use heat tools. The heat protection technology is found in many leave-ins and, just like the name says, protects the hair from the damage that tools like blow dryers and hair straighteners cause.
Our Indications
On Metro Brazil Website we have plenty of hair care products, including many leave-in conditioners. Take a look at our suggestions for your hair:
Nazca Curls Activator (Defining Cream) for Curly Hair: the perfect solution to get the most beautiful and defined curls. It promotes frizz reduction, softness, radiant shine, and immediate action.
Nazca Easy Shine Leave-in Professional: this leave-in protects the hair from every kind of heat: besides thermal protection, that avoids damage caused by heat tools, it has a UV filter, that avoids damage caused by sun exposure. The formula has an exclusive silicone complex with polymers that act as conditioning agents, repairers, and shine donors, facilitating the combining of damp and dry hair, providing instant and radiant shine to the strands.
Rio Magic Smoothing Thermal Protection Spray by RIOBELO – Maracujá and Açaí: Rio Magic is a leave-in with thermal protection and anti-frizz technology that provides intense shine. With innovative technology, it provides instantly smoother hair, with a healthy and natural aspect. The Maracujá version is amazing for normal and curly hair, while the Açaí version is for blonde and dyed hair. 
[1]What You Need to Know About Using Leave-In Conditioner. (2020). Healthline. https://www.healthline.com/health/how-to-use-leave-in-conditioner
[2]5 Reasons you should be using a leave-in hair conditioner. (2017). All Things Hair. https://www.allthingshair.com/en-uk/hair-products/leave-in-conditioner/benefits-leave-in-hair-conditioner/
Did you enjoy our tips? Share this article with your friends! And follow us on social media to keep up with our news.