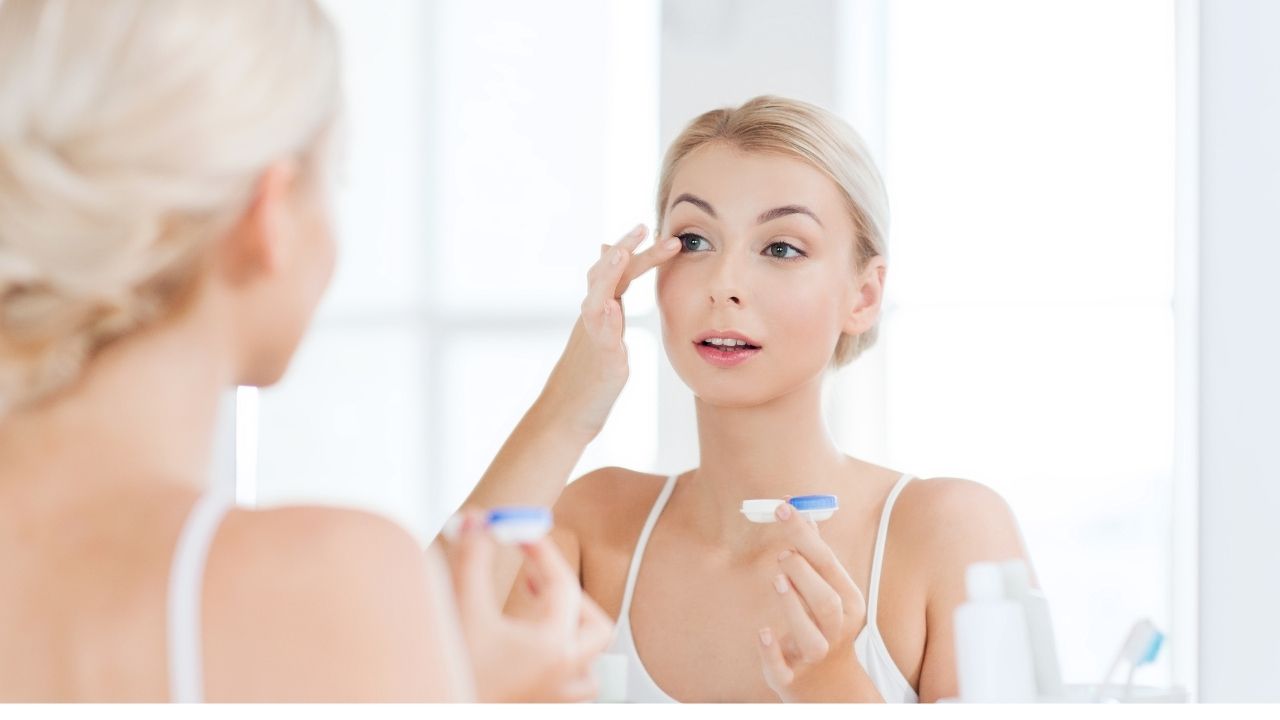 Which Contacts Can You Sleep In?
There is too much talk spreading around about the risks of wearing contact lenses; it can be misleading. In reality, they are safe devices when you handle them properly. There is a set of recommendations for you to follow to avoid any lenses-induced risks, such as proper cleaning and maintenance and following the right wearing schedule.
The Centre for Disease Control reported several infection cases among people who misused their contact lenses; they practiced certain behaviors that led to severe conditions that needed immediate medical intervention. Sleeping in, swimming in, taking baths in, and the prolonged wearing of contact lenses were some of these behaviors.
Why is sleeping in contact lenses considered wrong?
Although it is still rare and requires more than one misuse, sleeping in contact lenses increases infection risk by six to eight times and makes Dry Eye worse. How?
Cornea takes the required amount of oxygen from the atmosphere and tears; contact lenses block Oxygen transmissibility, and it gets worse when sleeping since the eye is not blinking and not forming tears to moist the eye. This Oxygen deprivation may cause Hypoxia.
Contact lenses collect debris and contaminants during the day, and when you don't take them off to clean correctly, they might transfer these contaminants to your eye, causing an infection.
The rapid eye movement while sleeping in contact lenses makes things even worse.
You should immediately report to the doctor if you suffer discomfort, redness, or discharge from your eyes.
Which contacts can you sleep in: Air Optix Night and Day
Many people find contact lenses proper daily maintenance overwhelming; after a long day, you often go to sleep, forgetting you have your lenses on. In fact, A lot of those people wear eyeglasses instead just for this reason! Researchers addressed that issue and started working on several solutions, some of which are now FDA approved, like Air Optix Night and Day.
What is Air Optix Night and Day?
Air Optix Night and Day are flexible FDA approved lenses for 30 days and nights extended use. They are specially designed for those leading active and hectic lives to help their vision at any time with the least maintenance needed.
More than two-thirds of Air Optix wearers achieved the 30-night streak with no troubles; Air Optix Night and Day proved efficacy in reducing the risk of infection and dry eye.
So, if you worry you don't have the time to take care of your lenses properly, Air Optix Night and Day is your go-to option.
Who can wear Air Optix Night and Day?
You should first consult a specialist for proper diagnosis and fitting, and if you fall within one of the following categories, there is a big chance the doctor will prescribe Air Optix:
People who lead busy and active lives; doctors, moms, busy professionals, frequent travelers, and sports professionals.
People who have refractive troubles like shortsightedness and farsightedness.
There is also an available Air Optix Night and Day product for Astigmatism.
What makes Air Optix Night and Day special?
Air Optix Night and Day is designed with technologies that offer great comfort day by day by reducing the risk of infection and deposit accumulation. In addition to providing high breathability and Oxygen transmissibility.
Air Optix Night and Day keeps the healthy white look of the eyes even with overnight use, and it features the following two highly advanced technologies:
SmartShield Technology: This technology creates a hydrophilic environment and delivers an ultra-thin protective layer over the lenses to avoid the buildup of deposits, like lipids and proteins naturally present in tears. SmartShield Technology gives the lenses high resistance and reduces the risk of infection.
HydraGlyde Moisture Matrix: This is a moisturizing technology aimed to keep the lenses hydrated throughout the day, delivering great comfort for you and reducing the risk of Dry Eye.
Benefits of Air Optix Night and Day
Suitable for those leading busy lives.
FDA approved for extended and overnight use.
Refractive issues treatment; shortsightedness, farsightedness, Astigmatism.
Extremely high breathability and Oxygen transmissibility.
Significant reduction in infection risk.
Superior wettability and lipid deposit resistance.
Air Optix Night and Day Side Effects
As mentioned above, not all lens wearers are safe from side effects. A post-market study showed that 0.18% of wearers developed a corneal infection, and 0.04% experienced a reduction in vision; that is a low but valid risk. Therefore, it is essential for you to seek medical advice when any infection symptom is expressed, such as redness, eye discharges, itching, and swelling.
Air Optix Night and Day precautions
The specialist is responsible for giving you all the recommendations of use and maintenance according to your unique condition. Besides, the specialist also determines the type of Air Optix to prescribe, whether for Astigmatism or other issues.
Needless to say that you should not wear contact lenses if you have an untreated eye infection, inflammation, disease, injury, or dryness.
You should replace your Air Optix Night and Day every thirty days. If you decide to take them out beforehand, you should clean them properly before wearing them again.
Read More: How contact lenses are made
Don't forget to visit MetroBrazil store for high-quality contact lenses.