Find out the reasons to wear a belly band during pregnancy
Pregnancy is a unique and beautiful experience in a woman's life. But let's not lie, it also brings several challenges! One of them is the pain in the abdomen from the baby's growth. During the second and third trimesters of pregnancy, many women suffer from abdominal and lower back pain. If this is your case, you can rest assured that there is a solution: pregnancy belly support!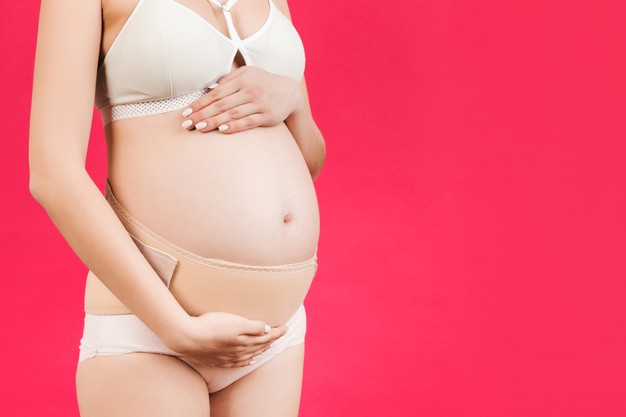 Also called a belly belt (although there is a difference between a band and a belt), the pregnancy band is a great accessory for moms-to-be who feel body aches when performing daily activities and also for the postpartum period[1]Freutel, N. (2018, January 4). The 5 Reasons You Need a Pregnancy Belly Band. Healthline. https://www.healthline.com/health/pregnancy/belly-band-benefits. Today, we are going to show you the reasons why you should bet on using this brace! But remember: always talk to your doctor before using a support garment, ok?
WHAT IS THE DIFFERENCE BETWEEN A PREGNANCY BELT AND A BELLY BAND?
Before we even start talking about the reasons for using a support garment, you need to know the difference between a pregnancy belt and a belly band! Well, the distinction between them is quite simple: rigidity! While the belly band is more flexible, the pregnancy belt is more rigid. Anyway, both have the same goal: to reduce the pain of the pregnant woman! But today, we are focusing on the belly band[2]Huizen, J. (2018, November 5). What are the benefits of belly bands and belts? Medical News. https://www.medicalnewstoday.com/articles/323583.
REASONS TO USE A BELLY BAND:
REDUCES PAIN
The most obvious reason for you to use a belly band is the fact that they are made to reduce the pain of pregnancy! Spinal and joint pains that prevent you from carrying out everyday activities in comfort will be reduced by using them. And how does it happen?
The belly band is made to support future mothers' bellies so that they appear to be "less heavy". During use, you will also feel support at the lower back, allowing you to move more easily throughout the day!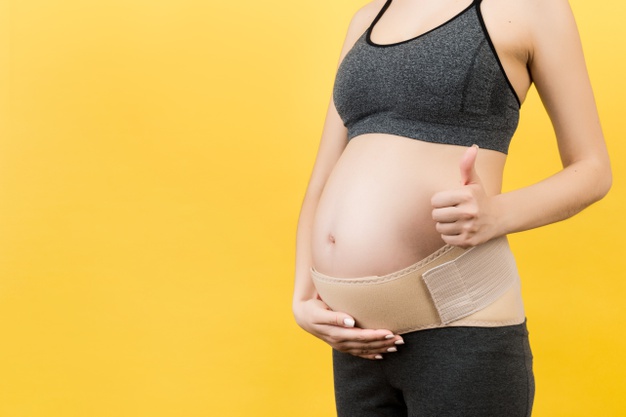 PROPER POSTURE
One of the most characteristic effects of pregnancy is the curved posture. After all, there is a baby growing in your body, which results in you putting more effort into the abdominal area and also a weakened spine! Thus, another reason to use the belly band is the support needed to maintain a proper posture!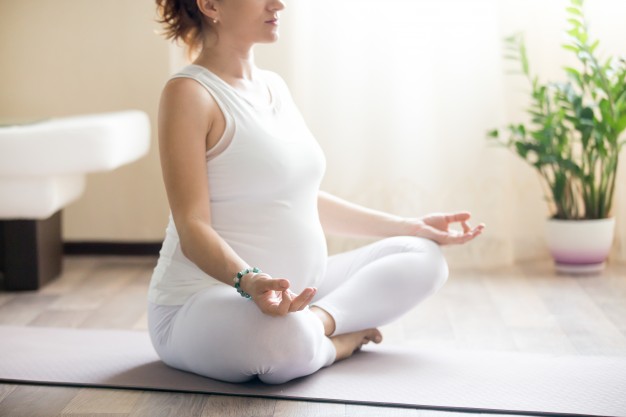 PROVIDES COMPRESSION
A growing baby bump can cause discomfort when moving around … Just as we are used to wearing bras as a support mode, the belly band works as a support for the belly. And don't worry! The belly band is made of comfortable and elastic materials: at the same time they compress the belly, they allow you to breathe freely. This way, you can move comfortably throughout your pregnancy!
COMFORT THROUGHOUT THE DAY AND PREGNANCY
Related to the item above, another reason for you to use the belly band is the fact that you can perform various activities that perhaps the pain and discomfort were preventing you. A pregnancy support garment will give you the security you need to go for a walk, for example, without feeling back pain! After all, moving your body is important at all times (especially during pregnancy)!
CAN BE USED DURING POSTPARTUM
If you think that a belly band can only be used during pregnancy, you are wrong! Another reason for you to invest in a pregnancy band is the fact that it can be used during the postpartum period, known for the weakness in the abdominal muscles!
And, unfortunately, many mothers continue to experience pain in the lower back and abdomen after delivery. But keep calm, as the belly band will remain there to give you the support you need at that moment!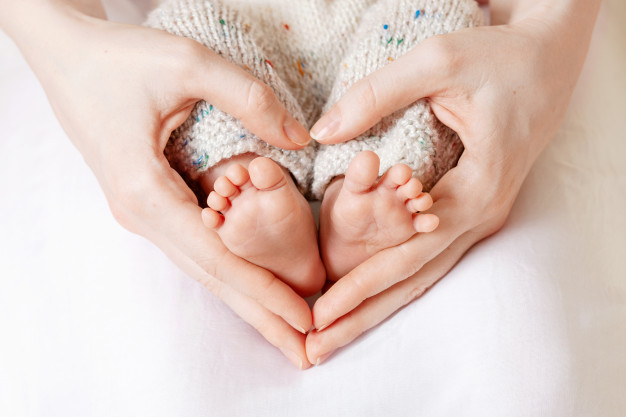 See how a belly band will bring you comfort and support? Know that there are many methods to relieve pain from pregnancy, so talk to your doctor so he can recommend the best solutions. And to check out great pregnancy and postpartum products, check out the Metro Brazil website!