A youthful and bright skin, free of any pigmentation or acne, is every woman's goal. However, the skin is always exposed to harmful environmental factors; add to that skin type-related issues like oils and dead cells, and fair skin seems far from reach.
Therefore, it is essential to take care of your skin and clean it within several stages; daily superficial cleaning and weekly deep skin cleaning.
Daily surface skincare:
Daily skin wash using a face wash/lotion specified for your skin type:
Dry skin: it needs a moisturizing cream that you can wash after with warm water. We advise you not to wash your face more than once.
Oily skin: if you have this skin type, you should apply a lotion containing oil-removal substances twice a day and wash it with warm water after.
Sensitive skin: it is cleaned with a gentle lotion and cold water as hot water may irritate you.
Normal skin: it is the easiest type to handle as it has a moderate level of oils. Use a lotion for normal skin.
Weekly deep skin cleaning:
It is essential to include this type of treatment in your skincare routine. It gives your skin a more youthful and healthier appearance; you can apply it easily in only 30 minutes with reachable natural components.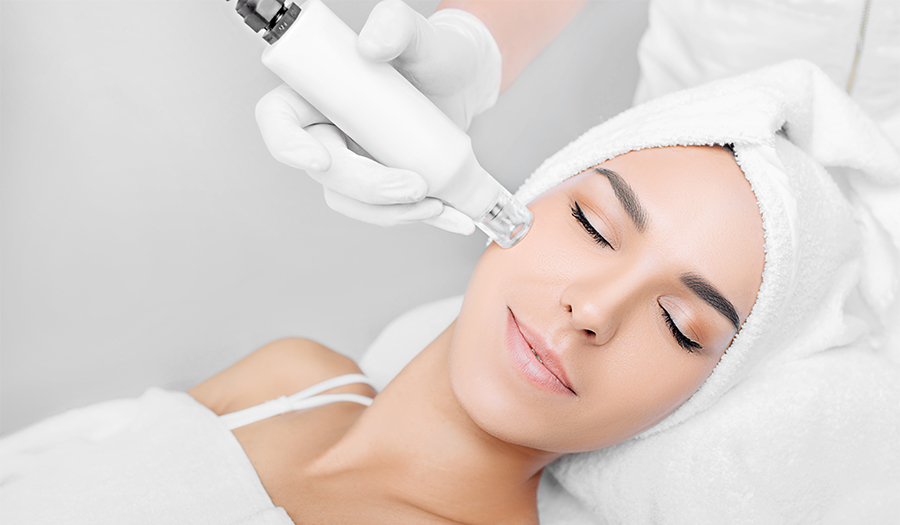 Cleansing:
Wash your face with warm water; beware of hot water as it causes irritation, and apply the specified lotion for your skin type.
Circularly rub your skin to remove all oils and leftover dirt.
Dry your face with a soft towel gently.
You can remove make-up first with a pad dabbed in cleansing milk.
Steaming:
Heat a pot of water with a few drops of peppermint oil or clove oil, and leave it until it starts evaporating.
Expose your face to the vapor for 10 minutes. You can place a towel over your head to focus the vapor on your face only.
Do NOT get too close to the pot to avoid any burns.
You can inhale the vapor since it contains aromatic oils that are beneficial for your respiratory system.
Dry your face with a soft towel.
Massage the face gently with ice cubes in a circular motion to tighten the skin and close its pores.
Scrubbing:
You can use natural components for the mix; sugar with honey, olive oil, or coconut oil; pick two ingredients with compatible quantities.
Apply the mixture to your skin and massage it in a circular motion for 5 minutes.
Leave the mix on your skin for 3 minutes, then wash your face and dry it with a soft towel.
Face mask:
Now that your skin is clean and free of dead cells and leftovers, you can apply a nourishing mask to make it healthier. Choose the mask according to your skin type; you can use the industrial ones available in cosmetic stores or a homemade one.
If you have oily skin, it is better to use mud masks to absorb the excess oils off your skin. You can also use natural masks like bananas, papaya, and tomatoes; they all showed excellent results in tightening and purifying the skin.
If you have normal or dry skin, you can apply a mix of sandalwood powder and rosewater, leave it to dry then wash your face.
Toning:
You can use a natural mix of cucumber juice with rosewater to balance the skin's PH and give skin comfort.
Moisturizing:
In case you have dry skin, it is essential to apply an alcohol-free moisturizer before bed. As for oily and acne-susceptible skin, you can use a cream that contains Benzoyl Peroxide or follow a dermatologist's recommendations.
Benefits of deep skin cleaning:
It rejuvenates your skin.
You enjoy a blackhead–free skin.
It protects the skin from spotting and pigmentation.
It reduces wrinkles and fine lines.
It boosts blood circulation in the face.
Ultimately, it gives comfort and confidence.
You can always seek professional help and go to beauty centers as they may have more advanced techniques in terms of steaming, scrubbing, or even the masks, in addition to getting a professional massage for extra comfort.
Read More: 12 Steps to Keep Young Skin.
Do not forget to visit MetroBrazil Store for hair and skin treatment products.