Find out what can't be missing from your lingerie collection!
Plus-size women know how hard it is to find good (and pretty) underwear. Not so long ago, thinking about sexy lingerie for ladies above a certain size was basically impossible! However, nowadays, intimates retailers are aware that plus-size women want to feel comfortable AND gorgeous. So today we are going to show you what undergarments can't be missing from your closet![1]Editorial Desk. (2020, July 24). Plus Size Fashion Spotlight: Must Have Lingerie Styles For. . . Clovia Blog. https://www.clovia.com/blog/plus-size-fashion-spotlight-must-have-lingerie-styles-for-you/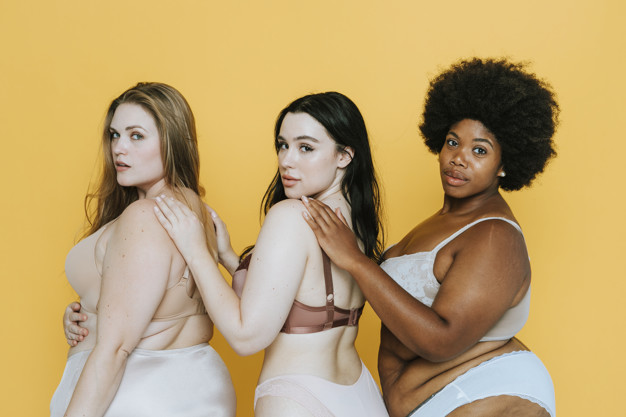 Before we go any further, there is some very important information you need to know before buying lingerie. After all, it's super sad to buy a bra or some panties only to have it looking terrible and feeling uncomfortable… Let's check out how to buy the perfect intimates!
Don't hide your body: Remember that your curves are beautiful and deserve to be shown!
Support is a must: opt for bras and panties that give you support, like underwired bras. But know that there are great bras without wire that are just as supportive.
You need to know your measurements: if you don't know your bra and panties sizes, it's time to know!
Have a great time: the number one thing you need to keep in mind is that there's nothing wrong with your body! Buying lingerie shouldn't feel like a chore, so make it a fun, "me" time.
INTIMATES EVERY PLUS-SIZE WOMAN MUST HAVE
Now that you know the most important things to consider before buying your lingerie, it's time to see what intimate pieces need to be in your closet!
HIGH-WAIST PANTIES
There's nothing better than feeling secure when wearing your lingerie, and there are no panties that scream security more than high-waisted ones! Not only do high-waist panties give you support on all sides, but it also helps to accentuate your sexy curves!
This type of panty can be used with an everyday outfit as well as when you're going out. By using high-waist panties, you'll be able to notice your waistline getting all the attention it deserves and your curvy hips too! And if you're searching for a comfortable and beautiful option, look no further: the Brazilian brands Plié and Lupo offer some of the best panties available!
With their seamless technology, Plie and Lupo's high-waisted panties can be worn with dresses, skirts, and whatever pants you want! 
COMFORTABLE FULL-CUP BRAS
If there's one thing you should have in your closet is a high-quality, comfortable full-cup bra! From different colors and several fabrics, this bra type is a classic and a must, especially if you have large breasts. A great recommendation is Plié's Control Double bra – it can be used with various types of blouses and dresses!
BERMUDA SHAPEWEAR
Last, but not least, every plus-size woman should have the perfect go-to bermuda shapewear. After all, we know how terrible it is to have thighs feeling burned… With a pair of bermuda shapewear, curvy women can roam freely with midi-dresses and skirts, without friction between the legs!
We recommend Plié's Super Comfort Shapewear – it is seamless (meaning it can be worn with everything!) and is made of microfiber, only to enhance comfort!
With these lingerie pieces in your closet, you are prepared for anything – from daily outfits to glamourous dresses. You can find even more incredible bras, panties, and shapewear options at Metro Brazil's website! And remember: love your body like it deserves and show your curves with pride!