Find out how to do this fantastic hair treatment
Most likely than not, you've heard of keratin before! This protein is extremely important for the overall health of the hair since it is its main component. Due to several factors such as excessive heat, sun exposure, and pollution, the natural protein barrier of the hair can be damaged. In these situations, the best thing to do is replace the protein by doing a keratin treatment!
The great about keratin it's that it is so popular, that you don't actually need to go to a hair salon in order to have a treatment done; there are A LOT of hair products out there that you can use by yourself, and get the same results from a salon! Among the great benefits of a keratin treatment are smoothness, strength, and shine. Well, if you feel your hair is damaged and want to end that, learn how to do a keratin treatment at home[1]All Things Hair Philippines. (2021, February 23). How to Apply Keratin Treatment at Home | All Things Hair PH. … Continue reading!
STEPS TO DO A KERATIN TREATMENT AT HOME
HIGH-QUALITY PRODUCT
First things first: you must choose a high-quality product that will do what it promises! At-home keratin treatments can be found in the form of shampoos, conditioners, serums, or hair masks – you know which one will work best for you, depending on the condition your hair is in, as well as your haircare routine!
If you want to give your hair super complete keratin treatment, you can easily found some kits, that usually contain shampoo, conditioner, hair mask, and leave-in conditioner! We recommend the Keratin treatment line from Nazca, a superb Brazilian brand known for its amazing products! You can find their keratin line in kits or as separate products:
WASH YOUR HAIR
Now that you have an amazing product, it's time to take the first step of the treatment. Make sure you wash your hair thoroughly, using only shampoo (a keratin one, preferably)! If you have curly hair, make sure the roots are very clean. And if you have straight hair, maybe shampoo it twice in order to have it extremely cleansed! Oh, and don't forget to rinse it well, ok?
APPLY THE TREATMENT
The main step of the keratin treatment is actually applying the product. Firstly, dry out your hair with a towel (live it a little wet, though). Then, apply the keratin product starting by the ends and moving upwards! Just make sure you stay away from the roots! After applying it throughout your whole hair, massage it so it gets deep into the scalp and hair fiber.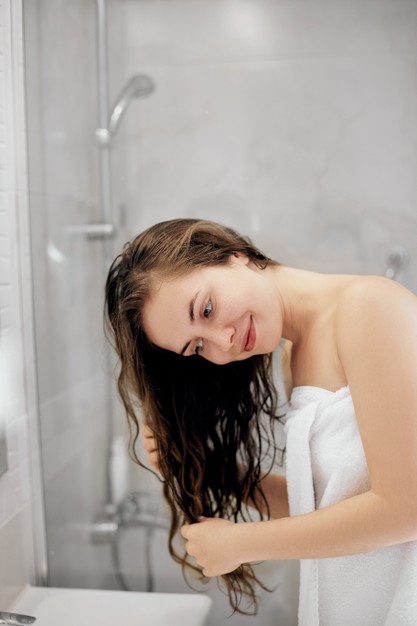 LEAVE IT ACTING
Although the time you should let the product act can change according to the brand, normally, it's something around 30 minutes. Before you let it act, with it already in your hair, comb your mane with a wide-toothed comb to ensure all parts of the hair are with the keratin treatment on them!
RINSE IT OFF YOUR HAIR
After you let it act, it's time to wash it off! Rinse your hair with lukewarm or cold water, and make sure you take all of the product out of your head, ok? After rinsing, don't apply any other product, as it could interfere with the keratin treatment.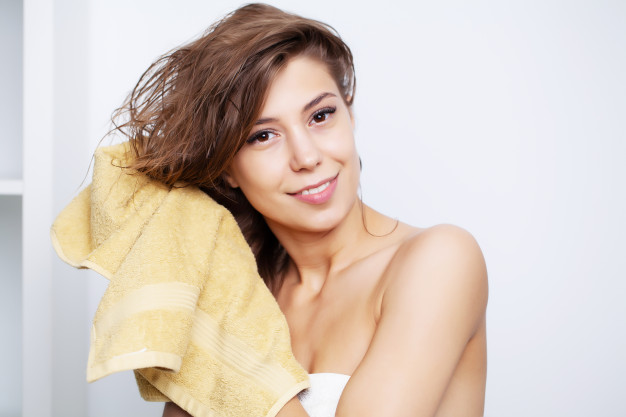 BLOWDRY YOUR HAIR
We know it may seem odd to ask you to blowdry your hair when the keratin treatment is usually done to the damage caused by heating devices. However, this is a really important step, because you are ensuring that the keratin is active and that your hair is looking smooth and shiny! So use a hairdryer and a brush to have the perfect final result!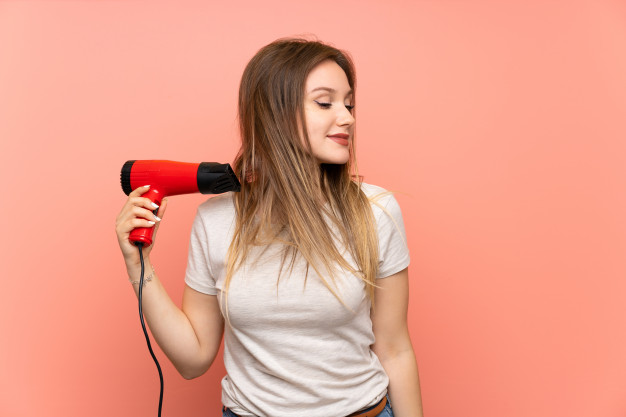 Now that you know finished the keratin treatment, you must wait at least 2 days to wash your hair again, ok? Depending on your hair's health condition, you can do this treatment once or twice a month (just don't overdo it, as it can have some negative effects on your mane). As you can see, it is quite simple to do a keratin treatment at home! But remember: you need to have a great product – and you can find some incredible ones at Metro Brazil! Check out our website!