Make your life easier by knowing what suits your body best
It is no news that every single body in the world is unique – and that's awesome! However, when it comes to lingerie, it can be a little tricky to choose the right set. To make things easier and buy lingerie that is going to make you feel AMAZING, it's good to know what suits your body type the best[1]Brickell, S. (2019, February 19). The Most Flattering Lingerie for Your Body Type. Health.Com. https://health.com/style/best-lingerie-for-your-body-type! But remember: even if you find that a certain type of bra or panties aren't the most indicated for your figure but you want to wear it anyway, feel free to do so! Do what makes you feel great[2]Club, N. T. (2021, January 4). The Best Lingerie for Different Body Types. Nordstrom Trunk Club. https://www.trunkclub.com/womens-style/lingerie-for-your-body-type!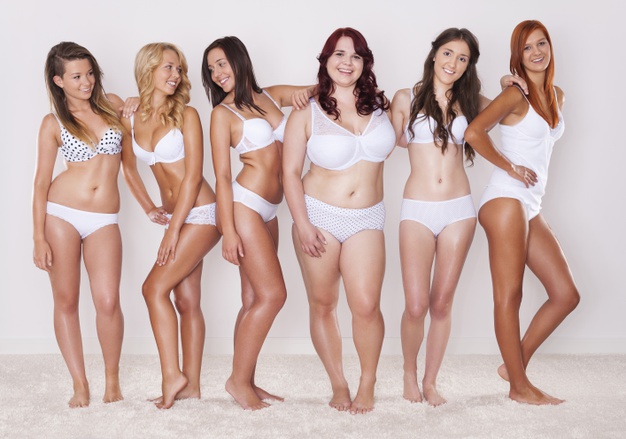 WHAT LINGERIE IS MOST INDICATED YOUR BODY TYPE
HOURGLASS
If your body is larger on the shoulders and on the hips but with a smaller waist, it is what fashion calls an "hourglass figure". When it comes to this body type, the tip is to opt for bras and panties that flatters the proportion of your measures!
Because women of all sizes can have this body type and breasts and bums can have different measurements, it's your call to choose if you want to enhance your curves or not. A great panties style is high-waisted – they are going to make your small waist stand out, just like this one from Fruit de La Passion!
APPLE (OR INVERTED TRIANGLE)
The inverted triangle body type (also known as "apple") is the one where the hips are thinner than the shoulders. For this type of figure, the most indicated thing to do is either opt for a bra that shows off your breasts or something that balances everything out by enhancing the hips! A nice bra suggestion is that with a deep V-cut, such as this gorgeous black bra!
PEAR (OR TRIANGLE)
The opposite of an apple-shaped body, the pear figure is that with wider hips and smaller shoulders and bust (these two most often having the same size). For women with this body shape, the recommended thing is to try to bring attention to the breasts – since the hips are amazing and already get a lot of attention!
A great suggestion is wearing bras that have details, like lace, and using thinner panties – such as g-strings or thongs! 
RECTANGLE (OR ATHLETIC)
Athletic figures are those that have almost the same hips-bust-shoulder proportion! Usually, women with this body type are also more muscular. If you think your body falls into this "category", the tip is to choose lingerie that makes your shape curvier! To do so, bras with details and patterns, plus panties with straps on the sides are a great call! Also, you can look even sexier by wearing a corselet, like the one below!
OVAL
If you have bigger breasts and hips, as well as a wider waist, you can find yourself relating to the oval body shape! When it comes to oval figures, the goal is to give the illusion of a longer body. To do so, look for bras with a deeper V-cut but that also gives you all the support you need. In terms of panties, high-waisted briefs will make your legs look longer!
Now you know what lingerie is most recommended for each one of the categories of body type! And don't forget to check out Metro Brazil's website to see even more marvelous lingerie from the Brazilian brand, Fruit de La Passion!