Protein treatments can be applied to keep hair healthy and act as a temporary patch for hair shaft cracks. Combing, brushing, tight ponytails or braids, inappropriate chemical use, vitamin shortages, waiting too long to cut your hair, wearing heavy extensions, wearing hair accessories, and pH imbalance can all lead to hair breaking.
Protein can fill the strands and repair damages. But how to find the best protein for your hair? This article will help you on this mission!
Why are protein treatments important for hair?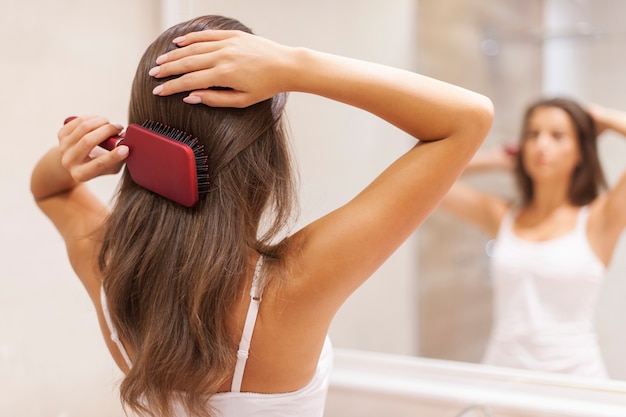 When there is a fracture along the hair shaft, hair breakage develops. This isn't the same as shedding your hair. When you notice long hair strands dropping from the scalp with a white hair bulb at the top, that is hair shedding.
Hair can break from the roots, despite the fact that shorter strands are typically broken. Protein treatments can be applied to keep hair healthy and act as a temporary patch for hair shaft cracks.
Hair is made of protein
Even if keratin, the protein that makes up 90% of our hair, is already a protein, it's still necessary to follow a healthy routine to avoid damaging behaviors and products.
By restoring the sections of our hair where protein was lost due to chemical procedures and heat, as well as by lengthening the anagen phase of our hair to reach length, protein aids in both strengthening and growing our hair.
The Distinction Between "Regular" and Protein Products
Finding a product for appropriate maintenance is the next step when you have a firm understanding of what protein is. The simplest way to tell a protein-rich food apart from your regular finds is to read the label.
To begin with, products high in protein frequently list words like repairing, reconstruction, strengthening, and rebuilding as advantages on the bottle or jar. Protein-specific substances ought to be listed at the start of the ingredients list.
As a general rule, the ingredient that makes up a larger portion of the final product will be stated first, and the concentration of each ingredient will decrease as you proceed down the label.
Protein Conditioners
Different protein qualities included in a protein therapy can adhere right to the hair follicle and stiffen the cuticle layer. The follicle is shielded from additional harm by this barrier that is created around it. Protein packs, reconstructors, deep penetration treatments, and light protein treatments are the four different kinds of protein conditioner treatments.
The kind of protein conditioner required for treatment will depend on the state of the hair. For hair that is severely damaged, use a reconstructor. Use a deep penetrating treatment on hair that has suffered moderate damage. Use protein packs or light treatments for routine treatments and little damage.
[1]Best Protein Treatments For Textured Hair. (2020). Essence. https://www.essence.com/hair/hair-products-tools/protein-treatments-natural-hair/#53426
[2]The Right Protein Treatment for Your Natural Hair. (2022). Curly Nikki. https://www.curlynikki.com/2014/02/the-right-protein-treatment-for-your.html
Conditioners, hair masks, leave-ins and other hair products are an easy way to replenish protein in your home and daily routine! You can also opt for DIY mask recipes with ingredients such as eggs and coconut milk, or, if you are looking for an even deeper treatment, book an appointment at a salon and do a professional keratin treatment.
Did you like this article? Share it with your friends and follow us on social media! Plus, don't forget to visit our official website!