We are all unique and logically we don't gain weight the same way. Many people gain fat in specific areas of the body – but a very common inconvenience for most women is to gain accumulated fat in the belly area.
There might be a lot of reasons behind each case of accumulated fat, but it is a fact that it decreases the self-esteem of a bunch of women and creates difficulties when it comes to dressing.
But if it is your case, you don't need to be upset: there are a lot of tricks to hide and disguise belly fat and this article will teach you!
The combination of legging or skinny jeans + longer tops
Legging pants are great: they are flexible and that allows them to adjust perfectly to the body in a very comfortable way. You can also have this effect by choosing denim pants with a good percentage of spandex. When combined with longer tops, these pants help to create the impression of a slimmer figure.
Don't draw attention to your stomach wearing accessories that make it look larger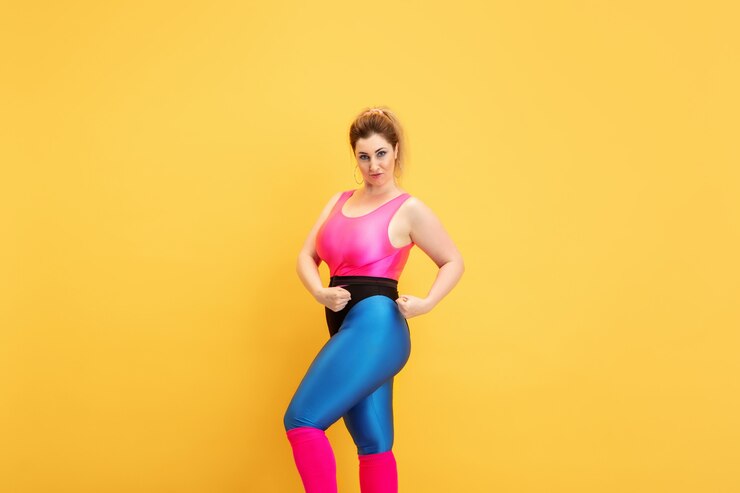 You don't need to quit wearing belts for good. You just have to ensure the belt is not too tight, but perfectly and softly adjusted, falling at the narrowest point of your bust. In this case, a belt can be a great ally, just like wrapping style dresses. 
Try investing in draped and asymmetric cut tops
Asymmetric cuts help to create longer "tips" at the sides of the body, drawing attention away from the belly and creating the impression of a slimmer figure. Another way to cause an asymmetrical and subtle effect is to knot a belt to the side: it gives you a fresh and modern vibe, besides enhancing a slimmer effect.
The waist height must be strategic when choosing pants or shorts
Usually, medium-high waist pants and shorts are your best friends. They enrich the waistline and silhouette shape, while super high or low waist models tend not to look good on all body types.
Creating vertical lines disguises belly fat
Creating layered outfits with long waistcoats and blazers are a great way to look super elegant during colder days. Additionally, these garments create vertical lines that elongate the silhouette and help to hide the belly.
Pick loose clothes instead of tight clothes
Okay, this may seem obvious, but reinforcing it doesn't hurt. While tight clothes usually highlight the belly region, loose clothes disguise it.
Prints are powerful
For good and for bad: prints are really powerful when the subject is to create illusions. Adding the right prints to your wardrobe can do wonders! Vertical stripes are probably the most famous print that causes the effect of a slimmer figure – on the contrary of the horizontal stripes, that create the illusion of a larger body.
But besides vertical stripes, prints with a smaller pattern and lower contrast are the best choices if you want to disguise your belly.
Shapewear is your best ally to hide belly fat
The last but not the least important trick – actually, this is probably the most important, is shapewear! These undergarments provide a compression effect that reduces measurements and hides the belly fat in a super efficacious and natural way!
[1]https://www.notimeforstyle.com/how-to-dress-to-hide-belly-fat/?lang=en
With all these techniques, you won't have to worry about how your belly fat will look underneath your clothes.
In case you are looking for shapewear, take a visit to Metro Brazil's website: we have the best Brazilian shapewear brands.
And if you enjoyed this article, share it with your friends and follow us on social media!