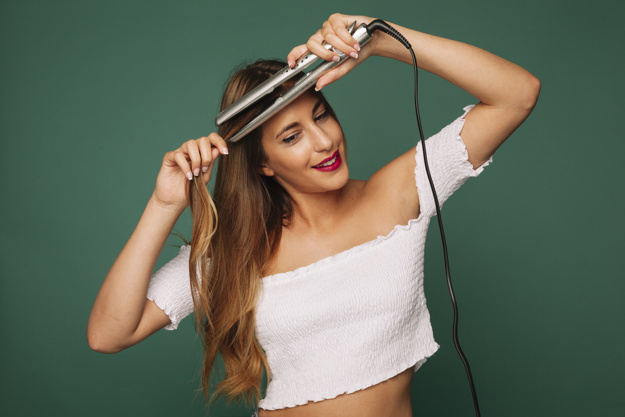 Hair straightener do's and don'ts
An easy guide on how to use a flat iron
We know how hair has a huge impact on our self-esteem. Nowadays, curls and waves are gaining more and more space (and rightly so!), but there are days when straight, frizz-free hair is all we want. On these days, most women use a well-known device: the flat iron.
The flat iron is a lifeline for many moments, but it is very important to know how to use it correctly. That's why today we're going to talk about this device's do's and don'ts[1]Sayee, A. (2021, January 13). How To Use A Hair Straightener Safely At Home. STYLECRAZE. https://www.stylecraze.com/articles/hair-straightener-safely-at-home/! But first of all, you need to know that the flat iron can cause risks to your hair due to exposure to high temperatures and it can also cause risks to anyone who is using it. After all, it is an extremely hot device, which can cause severe burns when not used properly.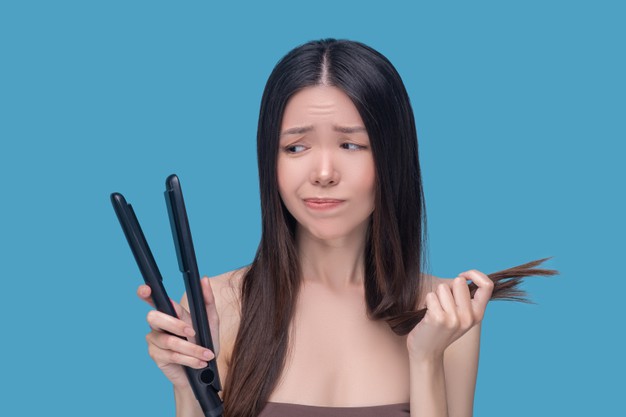 So let's go to the basic guide on how to use a flat iron safely and correctly[2]Ghosh, C. (2020, July 21). How to use a curling iron. Be Beautiful India. https://www.bebeautiful.in/all-things-hair/occasion/how-to-use-a-curling-iron!
WASH YOUR HAIR BEFORE STRAIGHTENING IT 
It is important to have clean, untangled hair before using the flat iron. That way, the device can run through the hair more easily, giving an impeccable final result. One tip is to use shampoo and conditioner for straight hair, so that your hair will be even more prepared!
DON'T FORGET THE THERMAL PROTECTOR!
As we mentioned before, one of the negative sides of using the flat iron is the damage caused to the strands due to heat. However, there is no need to eliminate the flat iron from your life. You just need to use a thermal protector for your hair, which will leave it prepared and safe from possible aggressions!
NEVER STRAIGHTEN WET HAIR
Remember to always wait for your hair to dry or dry it out with a hairdryer before ironing! Otherwise, you may damage the structure of the strands and your hair won't straighten effectively.
SLOWLY!
Divide your hair into small parts. If you take very large strands of hair, the flat iron will not get into contact with all the strands, so the straightening won't look nice. To have uniform smooth hair, use the flat iron in smaller strands!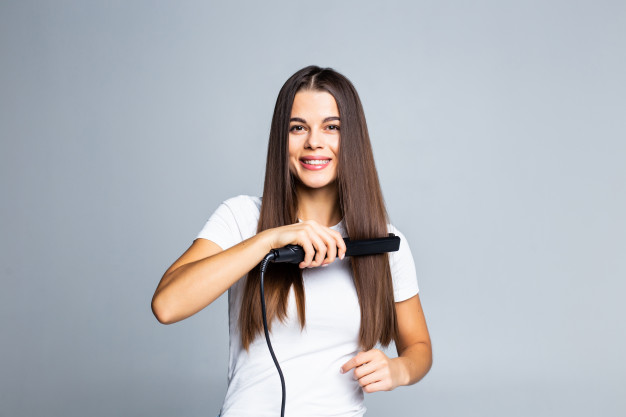 BE CAREFUL WITH THE TEMPERATURE!
Know that the temperature of the hair straightener is controllable. So, depending on the length and thickness of your strands, heat the device more or less. Each flat iron has a different heating time, so it is important to read the manual, ok? After all, we don't want burnt hair…
STAY AWAY FROM THE ROOT
Do not try to use the flat iron on the root! You will only end up burning yourself. Leave approximately 2 centimeters away from the beginning of the strands and slowly pass the hair straightener through the hair sections!
FINAL TOUCH
Finally, to ensure that your newly straightened hair remains beautiful and frizz-free, use specific serums for after straightening procedures! This way, you will ensure a smooth and shiny hair for much longer.
BONUS TIP: It is obvious that, first of all, you need to have a good hair straightener, right? We recommend the Lizze Extreme flat iron, from the Brazilian brand Lizze, which will leave your hair straight in no time!
Well, now that you know the basics of how to use the flat iron in a safe way, the perfect smooth hair is waiting for you! Remember that on the Metro Brazil website you can find a series of incredible Brazilian products to get the hair of your dreams!